Have you ever noticed white spots on your teeth? There are a few reasons these are present.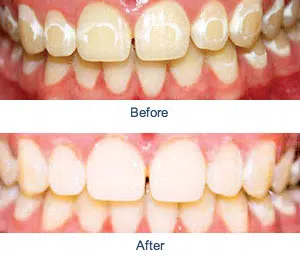 Some white spots tend to form from a disruption to the tooth formation process. This is referred to as hypocalcification.
Another reason for white spots is due to fluorosis. This is when too much fluoride is ingested while teeth are still developing. Sources of fluoride include fluoridated water, fluoride supplements and fluoride toothpaste.
The third reason white spots appear is due to poor oral hygiene. This is called decalcification and looks like chalky white spots. This is an early sign of carious lesions. These spots tend to be more noticeable on your front teeth, but can also happen on your back teeth too.
If white spots have appeared on adult teeth due to decalcification, a treatment called ICON treatment can be performed on the affected teeth to reduce the appearance of those marks. Prevention is of course the best thing, but ICON treatment can reduce the white, chalky appearance of those marks.
To find out more information about the reduction of white spots due to decalcification, contact us at Windermere Orthodontics in Suwanee, Cumming or Brookhaven.