7 Compelling Reasons to Move to Cumming, Georgia
Cumming, Georgia is a beautiful city to live in. Beyond the charm, the city offers an amazing lifestyle.
Cumming offers a blend of calmness, job opportunities, quality education, close-knit community bonds, affordable living, and the convenience of city access.
As of 2023, Cumming has a population of approximately 7,738 people. This city in Forsyth County, Georgia, offers a serene contrast to bustling metropolises.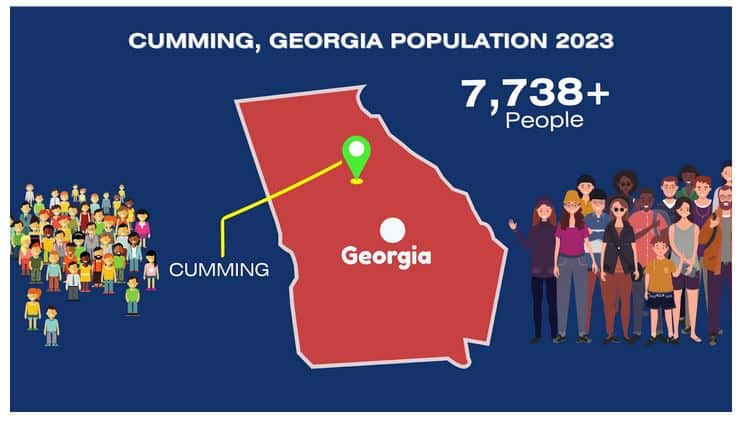 So, why should you consider Cumming for your next move?
It's where life intertwines with nature, where dreams are nurtured, and where every day is an opportunity to embrace a life well-lived.
Here are 7 compelling reasons to move to Cumming, Georgia:
1. Cumming Offers Calm Natural Beauty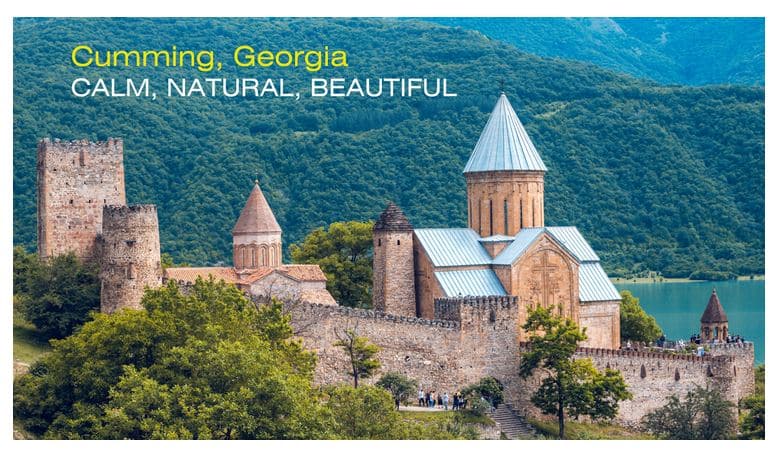 Situated in the heart of North Georgia, Cumming boasts breathtaking beauty.
It's surrounded by lush greenery and the sparkling waters of Lake Lanier beckon. You'd enjoy fun activities like hiking, boating, and fishing in this idyllic setting.
With 1,687 acres of pristine parkland, Cumming offers an inviting haven for nature enthusiasts.
And the community is actively engaged in these natural wonders. The city's picturesque landscapes serve as a backdrop for your daily adventures.
To enjoy the calm, natural beauty of this city, keep these tips in mind:
Explore scenic hiking trails in the North Georgia mountains.
Indulge in fishing and boating on the tranquil waters of Lake Lanier.
Enjoy picnics and outdoor activities in the town's numerous parks.
Discover the lush, green surroundings with a relaxing nature walk.
Experience the stunning landscapes from the comfort of your own home, thanks to Cumming's picturesque views.
From meandering hikes along scenic trails to the calm allure of boating and fishing on Lake Lanier's crystal-clear waters, Cumming provides a haven of nature's treasures for its residents.
The sense of serenity and connection with the natural world is a daily reality, making Cumming a place where one can escape the urban hustle and rediscover their inner peace.
Choose to live where the embrace of nature's beauty is not a distant view but a cherished part of everyday life.
2. Benefit from a Thriving Job Market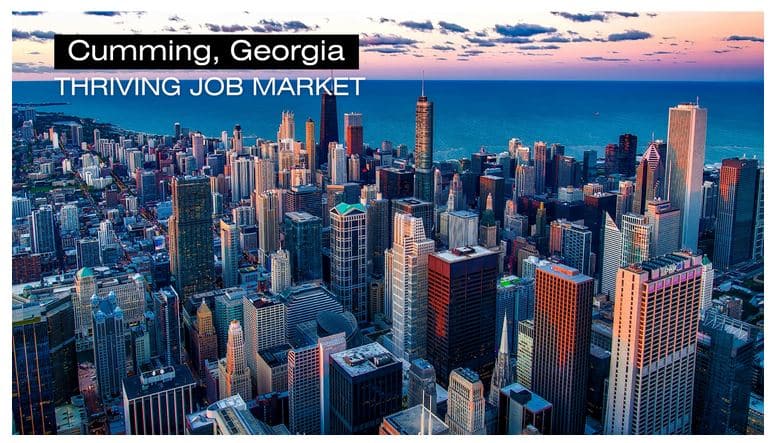 Cumming's job market is on the rise, with a recent study showing a 2.9% increase over the last year.
Various industries, including tech and startups, are thriving. This isn't just a place to live; it's where your dream job could be waiting for you.
Cumming attracts an influx of tech companies, startups, and established businesses alike. You'd find your dream job, and discover your dream career here!
In Cumming, your aspirations align with a growing job market, where various sectors are flourishing.
The town seems to whisper to newcomers, "Here, your ambitions have a home." 
This thriving job market is about building a life and a future. The potential for career growth and stability is enormous — making Cumming a compelling destination for those seeking not only natural beauty but also professional fulfillment.
Choose Cumming, and you're choosing a memorable city that values your career aspirations.
3. Cumming Offers Quality Educational Opportunities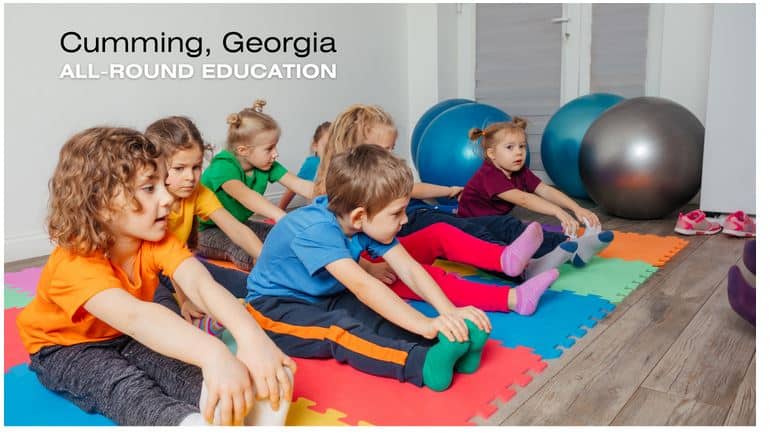 For your kids, Cumming offers exceptional education.
The schools (both public and private) in Cumming are highly rated. Many of these schools outperform the national average for academic performance.
It's like giving your children a head start in life, with plenty of extracurricular activities to keep them engaged.
In Cumming, Georgia, not only can you soak in the scenic beauty, but you can also be assured that your children will receive a top-notch education.
Your children would be attending the best schools, and also embarking on a path to academic success and personal growth.
Cumming's schools offer an enriching environment with dedicated educators, modern facilities, and a strong focus on nurturing individual talents.
Your kids won't just be going to school; they'll be on a journey of exploration and development.
Additionally, Cumming provides an array of extracurricular activities that cater to diverse interests, ensuring your children receive a holistic education.
Whether it's sports, arts, or clubs, they'll have ample opportunities to thrive and find their passions.
4. Get Involved with a Close-Knit Community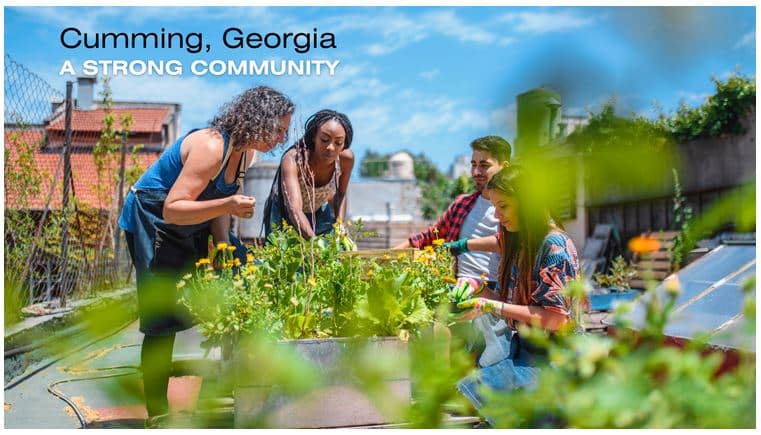 The sense of community in Cumming is tangible.
If you prefer to embrace warmth and togetherness, this might be the city for you.
Local events and festivals abound, making it easy to become a part of this close-knit family.
Here are simple ways to get involved with a close-knit community:
Participate in local events and festivals that bring residents together.
Volunteer for community initiatives and projects.
Join neighborhood associations or clubs based on your interests.
Attend town hall meetings and engage in community discussions.
Support local businesses and get to know your neighbors while shopping and dining locally.
When you think about Cumming, Georgia, think about more than just picturesque landscapes and thriving job opportunities; think about a close-knit community that's as inviting as it is vibrant.
Cumming isn't just a town; it's a big, welcoming family.
There's a strong sense of community, with local events and festivals that unite residents. It's more than a place to live; it's a place to belong.
In Cumming, your neighbors aren't just faces you pass by; they're friends who genuinely care. It's like finding your tribe in the heart of Georgia.
Cumming is committed to fostering a strong sense of unity and belonging.
It's a place where you can truly put down roots, make lasting connections, and find the support and camaraderie that can transform a town into a real home.
Choose Cumming for the friendly faces, the welcoming spirit, and the heartwarming sense of community, which is essential at the core of this wonderful town.
You're a cherished part of the community when you move to Cumming.
5. Enjoy Affordable Living Options in Cumming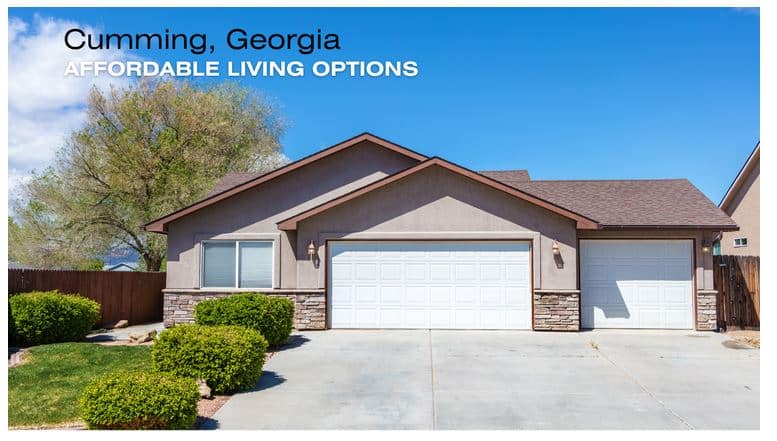 You might be surprised to learn that Cumming provides an affordable cost of living.
It offers all the perks of a great community without the hefty price tag. According to Payscale, the cost of living in this city is 4% lower than the national average.
Cumming, Georgia is a place where your wallet can breathe easy. It's not just about making ends meet; it's about having more to enjoy life.
To access these affordable living options, follow these tips:
Explore a range of budget-friendly housing choices, from apartments to family homes.
Take advantage of lower property taxes compared to nearby cities.
Shop at local markets and stores for cost-effective groceries and essentials.
Utilize community services and resources that offer assistance and support.
Consider Cumming's reasonable utility and transportation costs for added savings.
In Cumming, you'll find reasonably priced housing, grocery bills that don't break the bank, and utilities that won't give you a shock. You're offered immense value for your hard-earned money.
Here, you can live comfortably without constantly watching your finances. Dream big and achieve those dreams while maintaining financial peace of mind.
6. Embrace Cumming's Historic and Cultural Appeal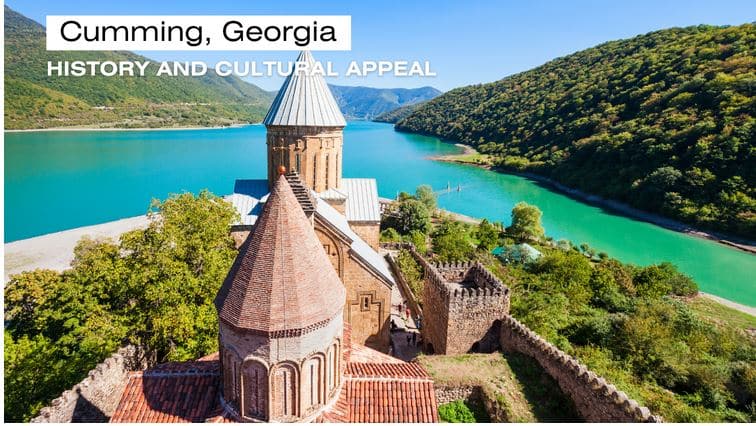 Cumming, Georgia is a living, breathing history book with a vibrant cultural chapter.
The city's rich heritage and thriving arts scene.
Cumming is a landmark for remarkable historic sites and cultural attractions. It's like taking a captivating journey through time.
Museums, art galleries, and local landmarks provide a window into the past and a celebration of contemporary creativity.
Cumming is more than just natural beauty and job opportunities; it's a place where history and culture are alive and well. Whether you're a history enthusiast or an art lover, Cumming has something to captivate your heart and mind.
In Cumming, the past and present coexist harmoniously, creating a town that's as culturally rich as it is picturesque.
Choose Cumming, and you're not just moving to a place; you're becoming a part of its vibrant story, where history and culture are cherished and celebrated.
7. Cumming is a Convenient Location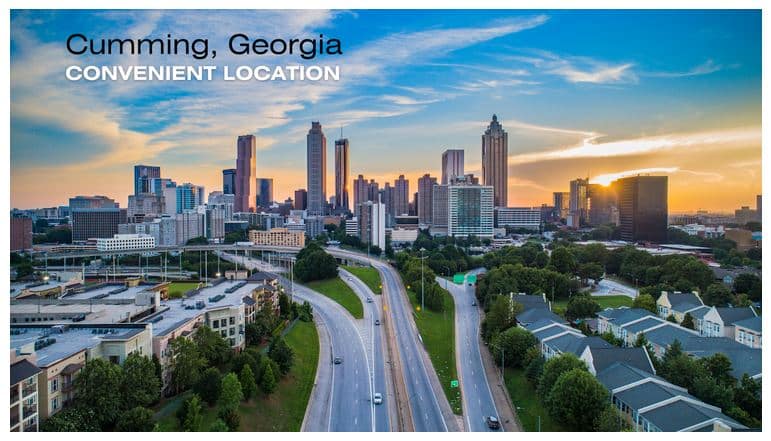 Living in Cumming doesn't mean being isolated. Cumming's strategic location offers easy access to major cities like Atlanta.
It's like having the best of both worlds – small-town charm and big-city convenience.
The city of Cumming is a place of beauty and community. It's strategically positioned to offer you the best of both worlds.
Situated in the heart of North Georgia, Cumming enjoys the perks of being close to Atlanta, one of the region's most dynamic cities. The town's convenient location is a strategic advantage.
With easy access to major highways and transportation hubs, Cumming provides a gateway to urban amenities, job opportunities, and cultural experiences. It's like having a small-town charm with big-city convenience just a stone's throw away.
In Cumming, you don't have to choose between a serene lifestyle and urban access.
You can have both.
The town's location ensures that your daily commute is a breeze, and you're always within reach of the excitement and opportunities of a major city.
Consider moving to Cumming, Georgia, a location that's more than just a dot on the map; it's your bridge to a world of possibilities, where small-town serenity and city life are beautifully balanced.
Conclusion
All in all, moving to Cumming, Georgia could be one of the best decisions of your life.
It's an opportunity to discover the perfect blend of natural beauty, professional growth, top-notch education, a warm and close-knit community, affordable living options, rich history and culture, and convenient urban access.
It's the ideal place to call home for families seeking quality education and a safe community, professionals pursuing a thriving job market, and anyone who values a serene lifestyle with the city just around the corner.
Cumming is a holistic experience. It's where dreams can be nurtured, relationships are cherished, and life unfolds with the ease of a well-written story.